Cheesy Scalloped Potatoes made with russet and sweet potatoes, covered in a silky smooth cheese sauce. 
Once upon a time, Kat was asked to make Scalloped Potatoes. Going only off of Devin's description she created what she thought was a pretty good recipe. Well apparently it was not. Dev and a few viewers went on and on about how they weren't cheesy enough. Well time for round two and we promise this recipe will NOT disappoint. Potato sides are a common holiday dinner side. They're easy to make and literally everyone loves carbs. However having the same simple recipe time and time again can get a little boring. We're here to spruce up your holiday dinner table with two epic potato sides; Creamy Mashed Potatoes with Crispy Topping and these Cheesy Scalloped Potatoes.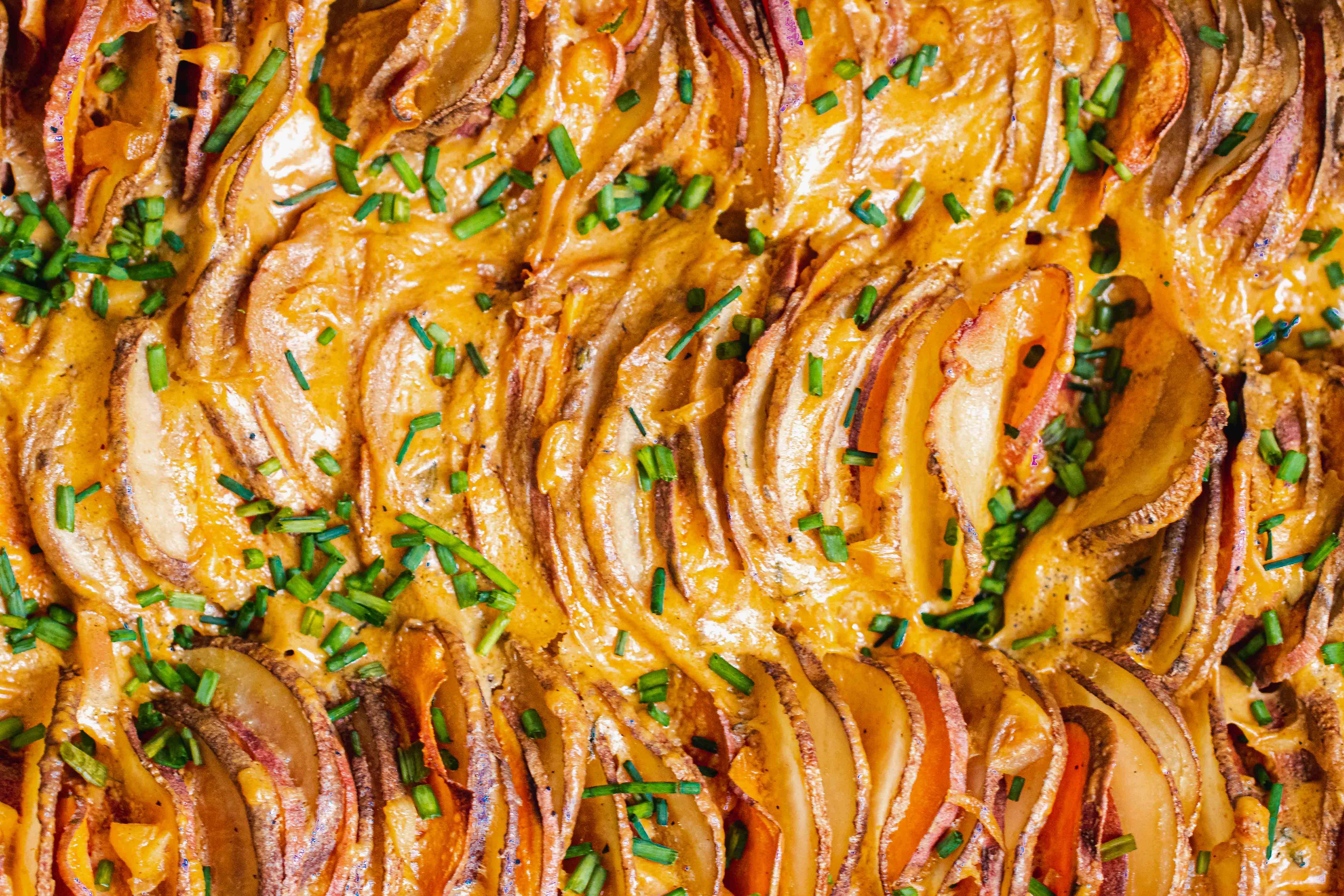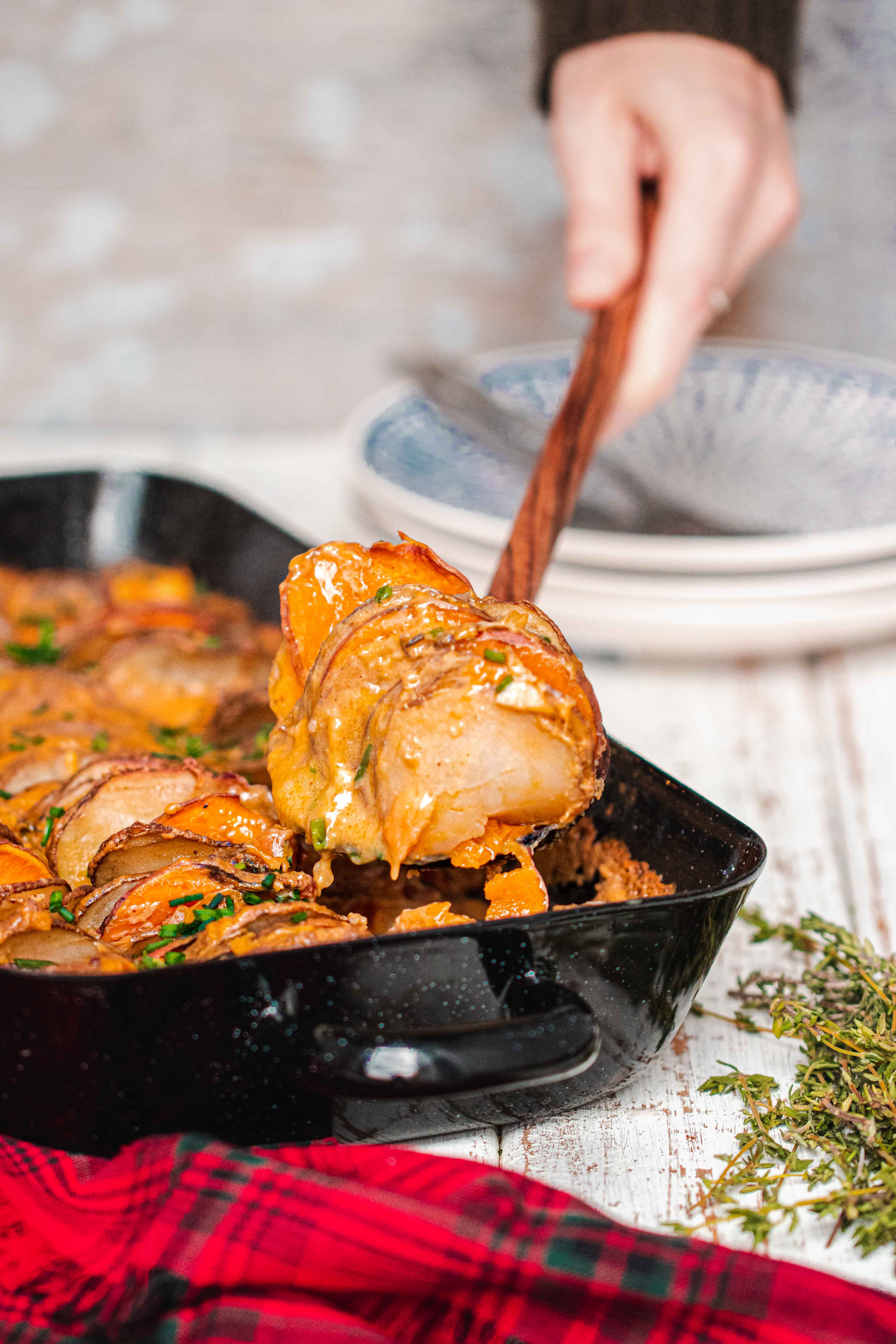 Now that Kat has actually had scalloped potatoes and learned from some feedback on her last recipe, she's confident she knows just what is needed to make the best scalloped potatoes ever. EVER.
So, what's needed?
Mixed Potatoes – Don't just stick with one type of potato, mix up the flavours a little bit with different varieties. We're using russet and sweet potatoes for ours.
Cut thin – For the perfectly crispy potato edges, you want the potatoes as thin as you can get them. We cut ours by hand, but you could use a mandolin.
Cheese, cheese and more cheese – It was the number one complaint in our last recipe, so we loaded this one with cheese and it's perfect. Seriously, don't be afraid of adding too much cheese, because you wont.
Layer differently – Traditional scalloped potatoes lay on top of each other. Instead layer them on their sides so you get the ultimate crunch on top with crispy potato edges.
Top with something fresh – These potatoes are HEAVY, topping with something fresh like chives or parsley to brighten it up.
Pair this recipe with our Mushroom Wellington, Classic Stuffing and Mushroom Risotto.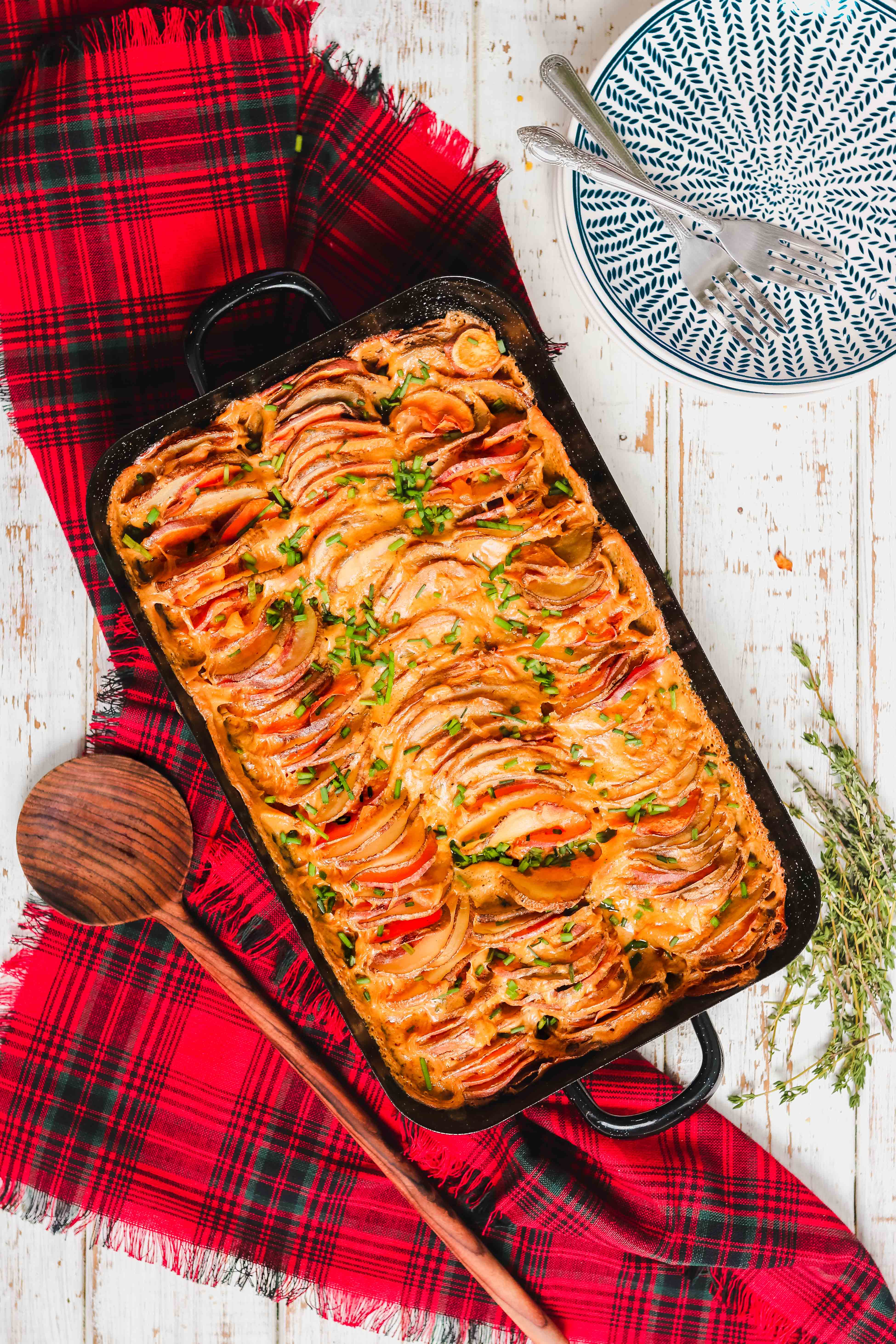 Cheesy Scalloped Potatoes
The cheesiest scalloped potatoes there ever were, plus crispy edges - it really doesn't get any better.
Print
Ingredients
1.6

lbs

(728 g) russet potatoes

1.6

lbs

(728 g) sweet potatoes

42

g

(1/3 cup) vegan butter

5

g

(2 tbsp) thyme

16

g

(4 cloves) garlic

,

minced

50

g

(1) shallot

16

g

(2 tbsp) all purpose flour

475

mL

(2 cups) non-dairy milk

14

g

(1 tbsp) bouillon paste

25

g

(3 tbsp) nutritional yeast

salt and pepper

,

to taste

2

g

(1 tsp) smoked paprika

2

g

(1 tsp) mustard powder

200

g

(1 pkg) vegan cheese shreds

,

shredded

3

g

(1 tbsp) chives

,

sliced
Instructions
Thinly slice your potatoes and set aside.

Grease a rectangle baking dish and alternate sweet potato and russet potato placing them in the pan upright, so edges are up. Continue this until the pan is full. Set aside.

To a pan on medium-high heat, add butter. Once melted add garlic and shallot. Cook for 2 minutes until soft. Add flour and stir until a roux forms. Pour in non-dairy milk, bouillon paste, nutrition yeast, salt and pepper, mustard powder, smoked paprika and thyme. Cook on medium heat until it has just started to thicken. Add in cheese and stir until fully melted and creamy.

Pour the cheesy sauce over the potatoes and cover with tin foil. Bake for 30 minutes, then remove the foil and cook for 15 minutes. The switch to broil and bake for an addition 5-10 minutes or until potato edges are crispy.

Sprinkle chives and serve.
How to make Cheesy Scalloped Potatoes: