By Fraser Fitzgerald
In 2015 I worked full-time in sales for a solar power company. Each day consisted of convincing people to chat about the money they could save with solar panels. Working in the renewable energy industry for years, I had little direction in my life or career. In 2010 I became a vegetarian and through that took up cooking. Struggling to define my career, my family encouraged me to pursue a culinary degree. By this point I was vegan and worried there wasn't a place for me at culinary school. I was assured I wasn't the first vegan to purse a culinary degree, after speaking with friends and the head of George Brown College.
Culinary School is an empowering experience. It provided me with the tools, perspectives and connections I needed to take plant based cooking to another level. With my experience, I'm outlining the benefits of pursuing culinary school and potential challenges you face as a vegan.
What's the value of culinary school?
Whether you're looking for a career in the culinary world or to improve your cooking skills, culinary school provides many opportunities. I wanted to focus on elevating my plant based cooking, so I sought opportunities to do so. I was drawn to recipe creation, teaching and product development. The instructors were supportive of my direction. If you're seeking to teach others about cooking or to create products, culinary school will open those doors. Working for a company as a plant based specialist is a possibility, because more consumers are demanding these products. Since graduating three years ago, my degree opened the door to culinary positions outside of working in a kitchen. I've been able to meet and network with amazing people all over the food industry.
Are there any vegan courses?
My program didn't offer any strictly vegan courses, however I did take one mostly vegan course. The chef, Amy Symington, is amazing and had a lasting impact on me. Amy made me believe that I could be successful as a plant based chef within the industry. Finding other plant based chefs and instructors will allow you to learn additional skills that fit your culinary goals. There are night classes through George Brown that offer vegan cooking instruction. These classes are targeted towards home cooks and conducted in a relaxed setting. I had the opportunity to assist in these classes that involved vegetarian Thai, raw baking and so forth.
How did you test the recipes with animal products?
I was enrolled in Culinary Management and Nutrition, so the dishes we cooked each week fit into the mainstream 'healthy diet' of fish, chicken and so forth. The Chefs were accommodating and allowed me to cook tofu in place of chicken. As we worked in pairs, my partner would test the overall dish and I tasted sauces and sides as required. Once you learn basic techniques, you can use other senses to determine if a dish is cooked and seasoned properly. Instructors are open to using different proteins and culinary concepts, which allows you to explore a dish in a variety of forms. For example, a butter chicken dish made in class can be adapted for vegan diets using alternate proteins and ingredients.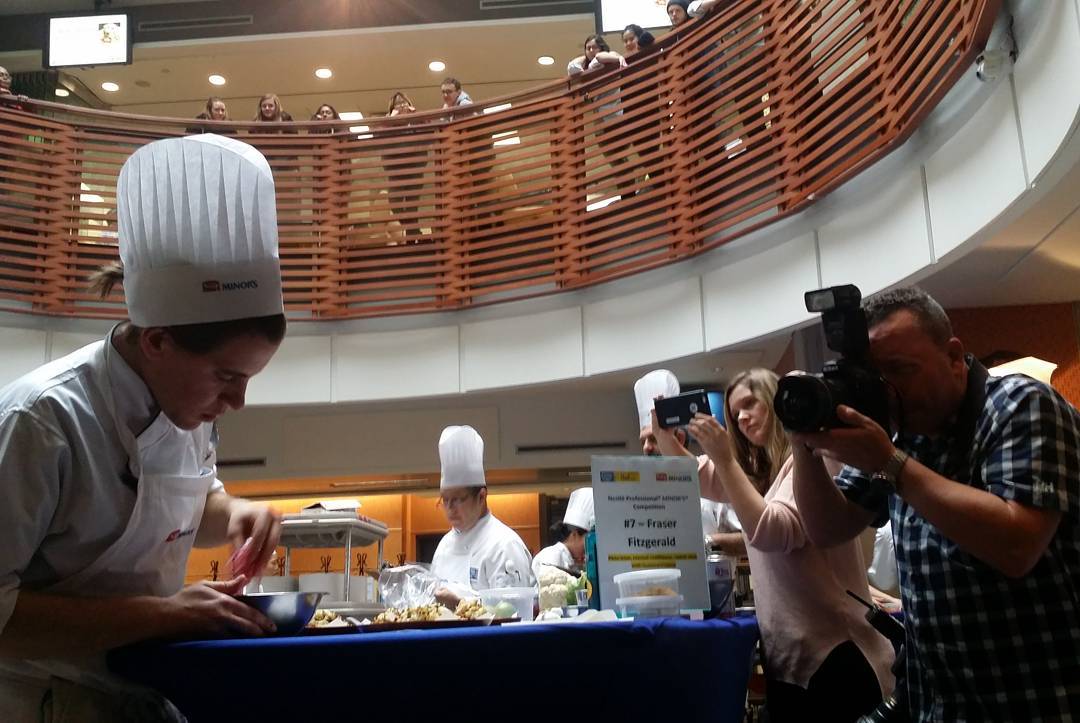 Did any instructors not accept your choices? What did you do?
My program was small and had a close-knit group of Chefs. Each semester I'd pull the Chef aside and explain my lifestyle, why I enrolled in culinary school and my goals. Most were very understanding and supportive. There were times we'd have to butcher animals or cook a meat heavy meal, but I knew it was just a step towards the future. These situations are unavoidable in a lot of culinary situations outside of school. At times classmates refused to participate and it would result in a lower mark. I hope that in the future, there's a plant based program offered at culinary schools across the country. I'm currently working as a plant based culinary instructor and have big plans for the future.
How do you get experience or internships as a vegan chef? 
I was lucky to live and attend school in Toronto where there are countless vegan restaurants. As a part-time job while at school, I worked at Fresh on Bloor. I was a prep cook three to four days a week while in school and during the summer moved into a line cook position. After Fresh, I became as a student research assistant at George Brown. It was a great experience and they were very accommodating of my lifestyle. My program had an internship placement and I was fortunate to be placed at the Canadian Living test kitchen. It aligned with what I wanted to do and allowed me to showcase plant based recipes in their magazine. I wouldn't have gotten this experience without George Brown. They connected me with people in the industry and I cannot thank them enough for the opportunities.
Culinary school is a short 2-year investment that will open countless doors. I met inspiring people and discovered my niche in the culinary world. While I had to cook and learn about animals, I was able to take the techniques used to prepare those dishes and apply them to plant based dishes. The sacrifice in that sense was worth it. I can confidently teach plant based cooking and use my skills for a greater purpose. If you're on the fence, consider the opportunity to join a movement of plant-based chefs and companies as more people seek out these options for their families. We need more professionally trained chefs who understand vegetables and care about animals, the environment and our planet. We need you to get in the kitchen and start a positive change from the inside out.
Find me on Instagram @thatplantedfork and www.thatplantedfork.com