Mason Jar Salad aka throw some veggies in a jar with dressing and you've got yourself a lunch.
September at TMG is all about quick and easy meals. Summer has come to an end and with that the time to make meals does too. When Kat was in university she almost never brought lunch with her. She'd wake up early enough to shower and head to class – and almost never had time to make something the night before. It took long and made a mess she just didn't want to clean up. When she went vegan in third year that had to change. 
When she went vegan and before she tapped into her cooking creativity, salads were the lunch of choice. They're quick and easy to make, plus with the right ingredients can be absolutely delicious. Doing this created one of her go-to school lunches. All a Mason Jar Salad takes is a few minutes of your time and a quick and easy dressing. But why a mason jar? Other than the fact that it's cute, mason jars are perfect to stake the ingredients on top of each other, are super shake-able and fit into small bags easily!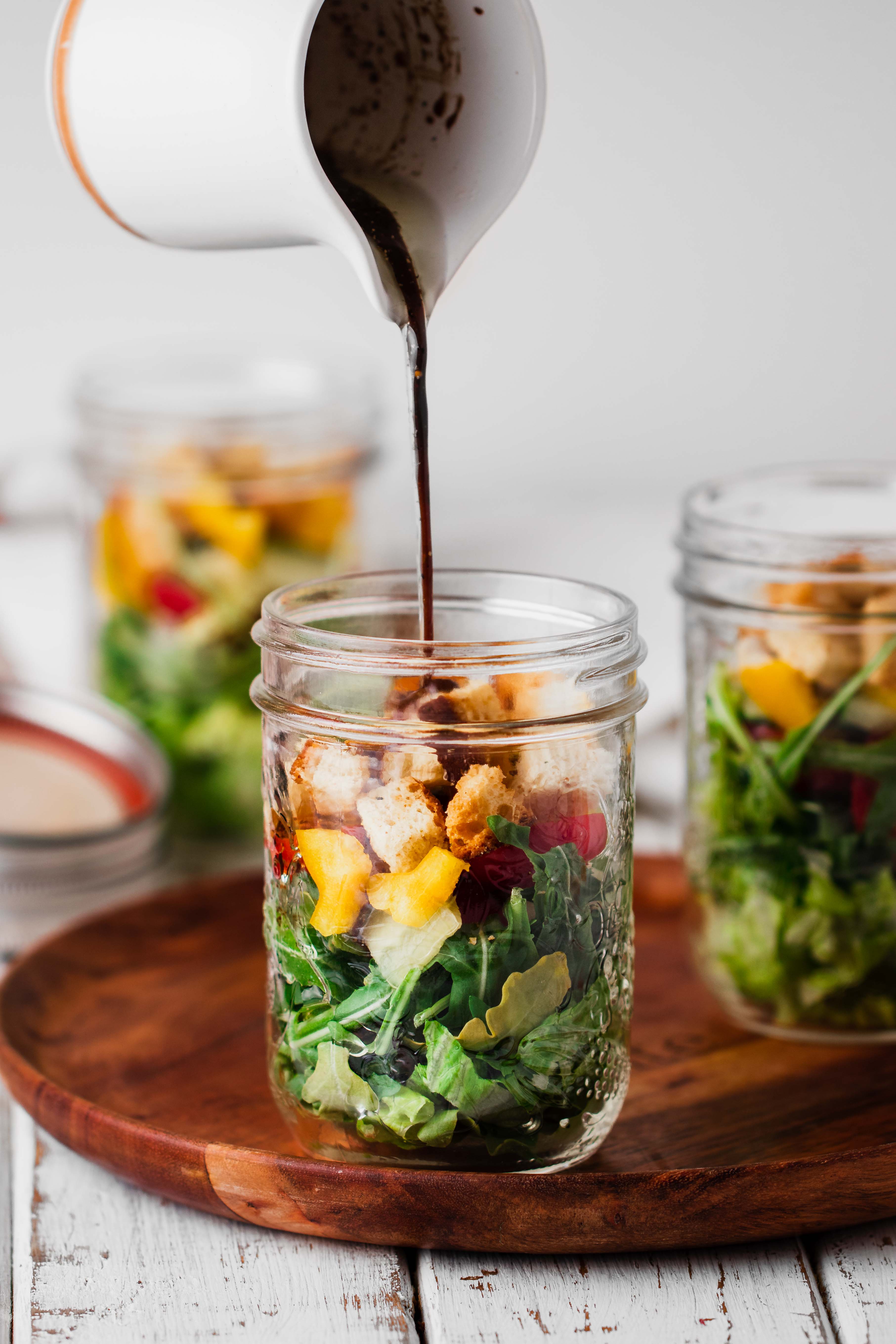 Why you should start making a Mason Jar Salad for lunch:
Quick and easy.
Completely customizable.
Travel-friendly.
Healthy and delicious.
Check out the full recipe and video for one of Kat's go-to salad combinations.
Mason Jar Salad (3 Ways)
Salad, salad, the magic meal. The more you eat the more you get bored of it. Good thing we've got three new delicious dressing to shake up your salad game.
Print
Ingredients
1

cup

red leaf lettuce

,

chopped

1

cup

kale

,

chopped

½

cup

cherry tomatoes

,

halved

¼

cup

cucumber slices

,

quartered

¼

cup

yellow bell peppers

,

diced

⅓

cup

homemade croutons
Balsamic Vinaigrette Dressing
1

tbsp

olive oil

½

tbsp

balsamic vinegar

½

tsp

yellow mustard

pinch

of pepper
Toasted Sesame Dressing
1

tbsp

sesame oil

½

tbsp

apple cider vinegar

¼

tbsp

coconut aminos

1

tsp

sesame seeds
Creamy Dijon Dressing
1

tbsp

dijon mustard

½

tbsp

vegan mayo

pinch

salt and pepper

¾

tbsp

white wine vinegar
Instructions
Chop all ingredients and set aside.

Add all dressing ingredients in a small bowl and mix together with a small whisk or fork.

If taking to go: pour dressing first, at the bottom of the mason jar. After that later your salad components; lettuce, kale, tomatoes, cucumbers, bell peppers and croutons.

If eating immediately: add ingredients to jar, dress with the dressing and shake to coat.