We've never had a reason to make Banh Mi before. Devin had never heard of the sandwich and Kat had her go-to places that she loved. They're inexpensive and delicious – a go-to when out. However Kat didn't always want to go to grab a sandwich. Sometimes she wanted to enjoy that at home, finally a reason to make Tofu Banh Mi Sandwiches at home.
Disappointed we never made these earlier They're simple to make, yet pack a delicious punch of flavour. If you have to option to make or even buy a Banh Mi we highly recommend that you do. Take it from Kat, it's her favourite sandwich ever.
A Tofu Banh Mi is packed full of delicious flavour that pop with every bite. It's important to have the right balance of the flavours or else it can just be overwhelming. The combination of fresh veg, pickled veg and pan fried tofu is seriously perfect. Don't believe us? Just make this recipe and you'll see. They are the perfect combination of depth of flavour and freshness. Every single flavour comes through in a single bite. We don't know about you but those are the sandwiches we aim for.
We could honestly eat this every day and be happy. Be warned the ingredients list is long and there is quite a bit of prep work but it's so worth it and super easy to make. It just takes some well deserved time.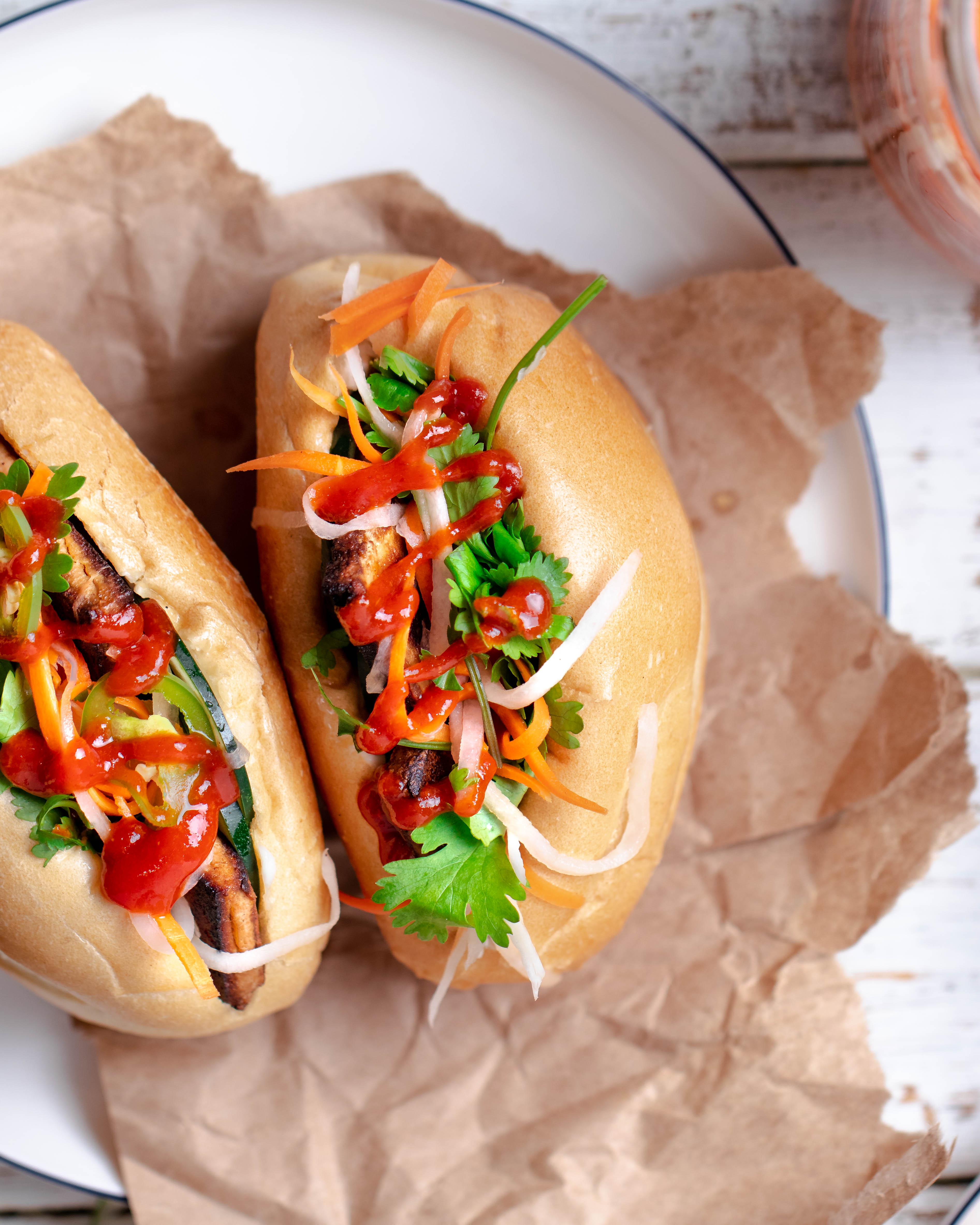 Vegan Banh Mi Sandwiches
Print
Ingredients
1

large baguette

1/2

cucumber

,

thinly sliced

1/3

cup

vegan mayo

cilantro

,

for topping

sriracha

,

for topping (optional)
Pickled Veggies*
1

cup

carrots

,

julienned

1

cup

daikon

,

julienned

1

cup

white wine vinegar

1/8

cup

rice vinegar

1 - 2

cups

water
Tofu & Marinade
1

block extra firm tofu

1/3

cup

veggie broth

3

tbsp

soy sauce

1

tbsp

sesame oil

1

tsp

ginger powder

2

tsp

garlic powder

1

tsp

onion powder

1

tbsp

black pepper

1

tbsp

all spice

1

jalapeno

,

divided

1

tbsp

lime juice
Instructions
Prepare your pickles veggies by julienne slicing you carrots and daikon and adding them to a mason jar. Add 5-6 slices of jalapenos.

To the mason jar add white wine vinegar, rice vinegar and enough water to cover all the veggies. Let sit in your fridge preferably overnight or at least 1 hour.

Preheat oven to 350F.

In a shallow dish add veg broth, soy sauce, sesame oil, ginger, garlic, onion, black pepper, all spice and 3 slices of jalapeno and mix until all combined.

Thinly slice your tofu and add to the marinade. Let it marinade for at least 15-20 minutes.

Thinly slice your cucumber length wise. Cut them long enough to go across the entire length of your sandwich. Set aside.

After about 10 minutes of marinating your tofu add lime juice and stir. Let sit.

Prepare your baguette by dividing into desired sandwich sizes and slicing in half.

In a small pan on medium heat pan fry your tofu slices in a little bit of sesame oil until browned and crispy.

Toast your baguette in the oven for 5-10 minutes. You want it just toasty, once it starts to brown take it out!

Spread vegan mayo on each sandwich and assemble. Adding sprigs of cilantro at the end for extra flavour and garnish!
Notes
*If you can pickle your veggies the night before you plan on making these it is best! If not, make them at least 1 hour prior to making your sandwiches.
Pro Tip: This sandwich is amazing with a little sriracha drizzled on top!
How to make Vegan Tofu Banh Mi Sandwiches