Fluffy cinnamon buns topped with a delicious vegan cream cheese frosting. Perfect to celebrate the one you love. 
Mothers; how do you even begin to write about them? They're literally the reason you are here right now; they make the world go round. They birthed us, raised us, taught us, and are our biggest supporters and cheerleaders. They're our best friends, our teachers and our therapists. Being a mom is literally a full-time job, plus most of them have paying full-time jobs on top of that. Talk about A LOT of work. We think they deserve to be recognized for that. How do you thank someone who literally does it all? Cinnamon buns.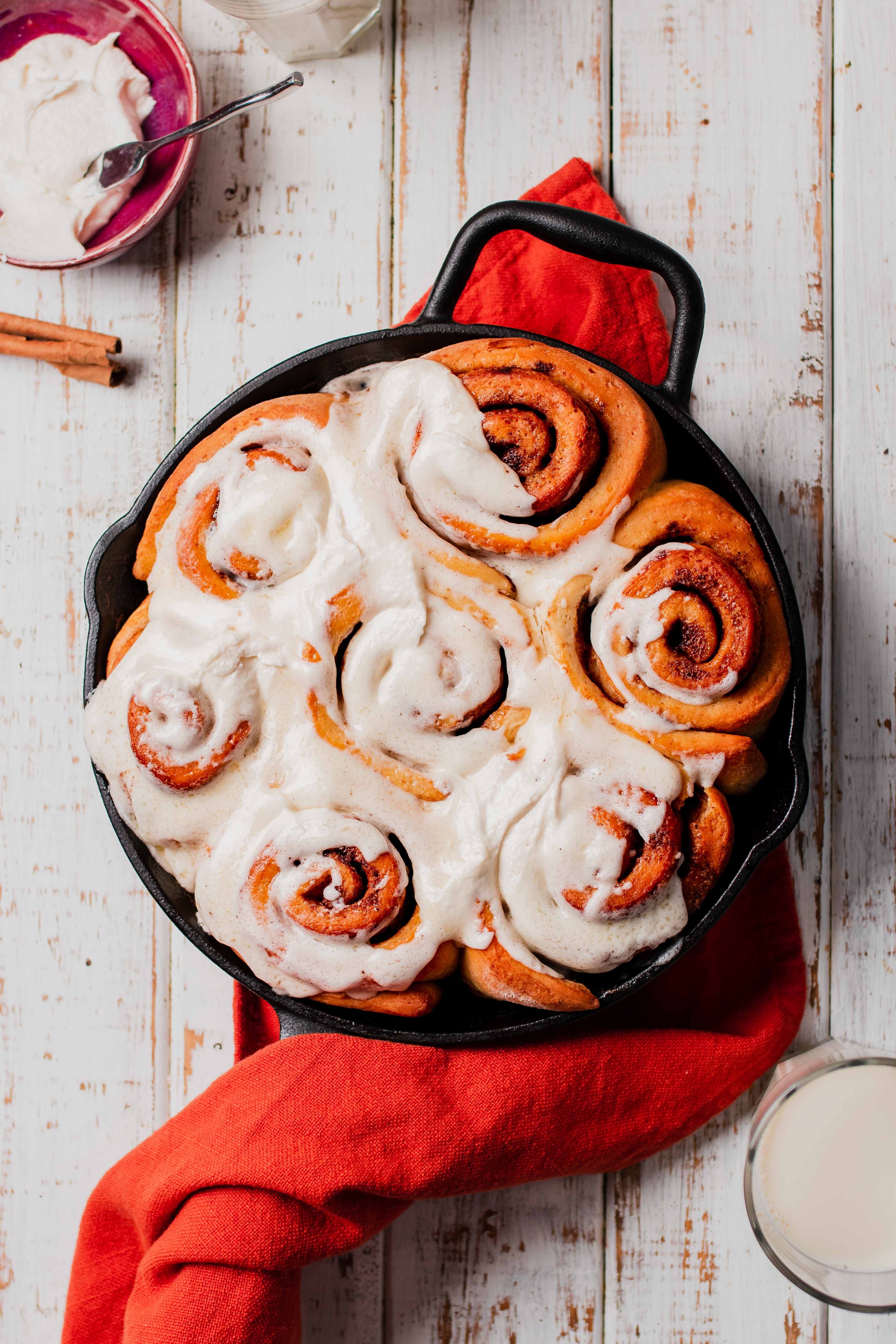 We don't know how we ever thank them enough, but we do know where to start: FOOD! Everyone loves food and this Mother's Day we want you to be able to spoiler your mom with delicious food. Starting with dessert of course! Nothing says I love you more than cinnamon buns. That's right kids, you are going to have to wake up early this Mother's Day, because your mom deserves freshly baked cinnamon rolls.
We have tested this recipe nearly ten times in order to get them perfect. It's literally taken weeks to finally have a finished recipe. Not that we're complaining, taste testing cinnamon buns isn't the worst thing in the world. We really wanted to make sure that it was the perfect recipe for this Mother's Day, and they do not disappoint.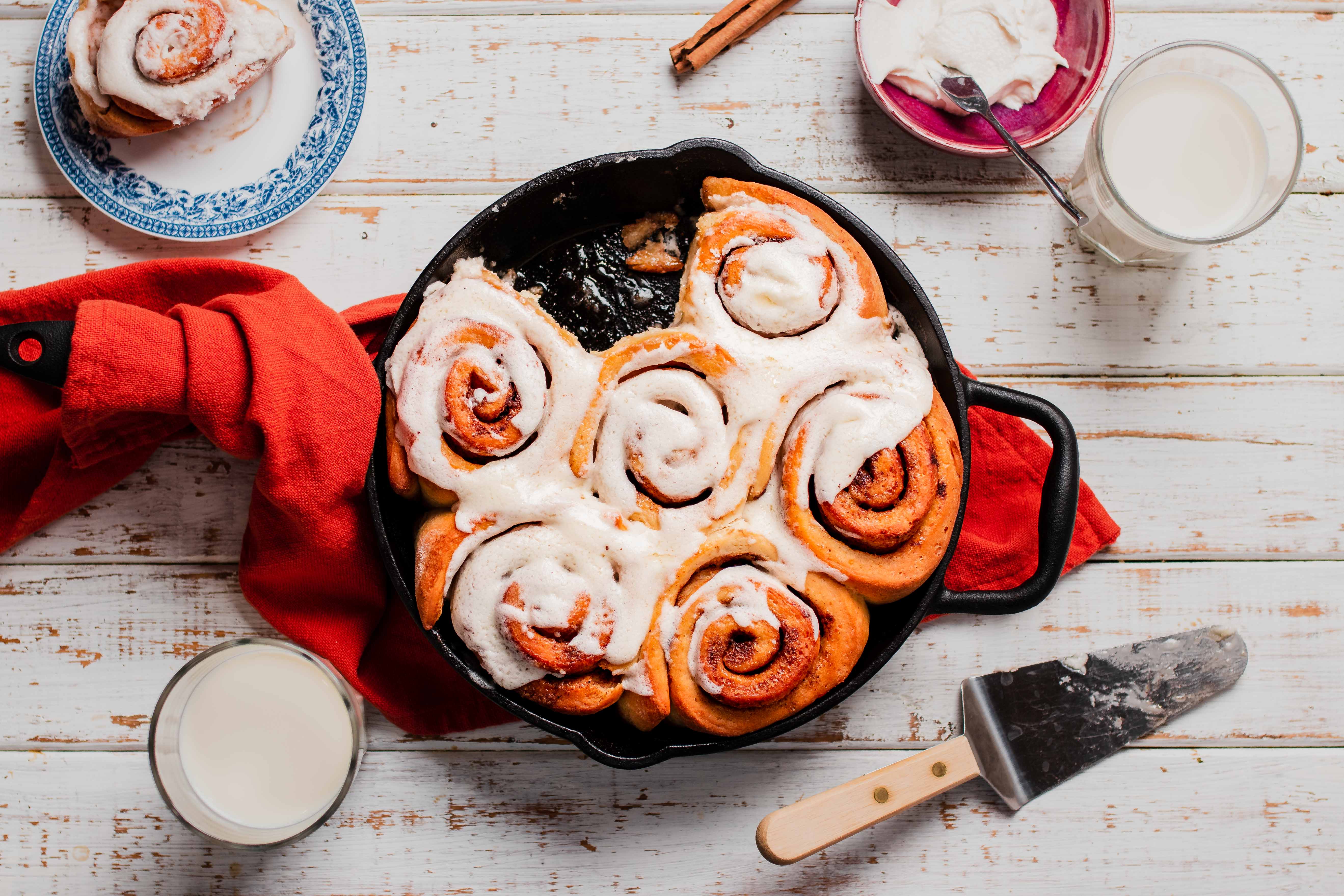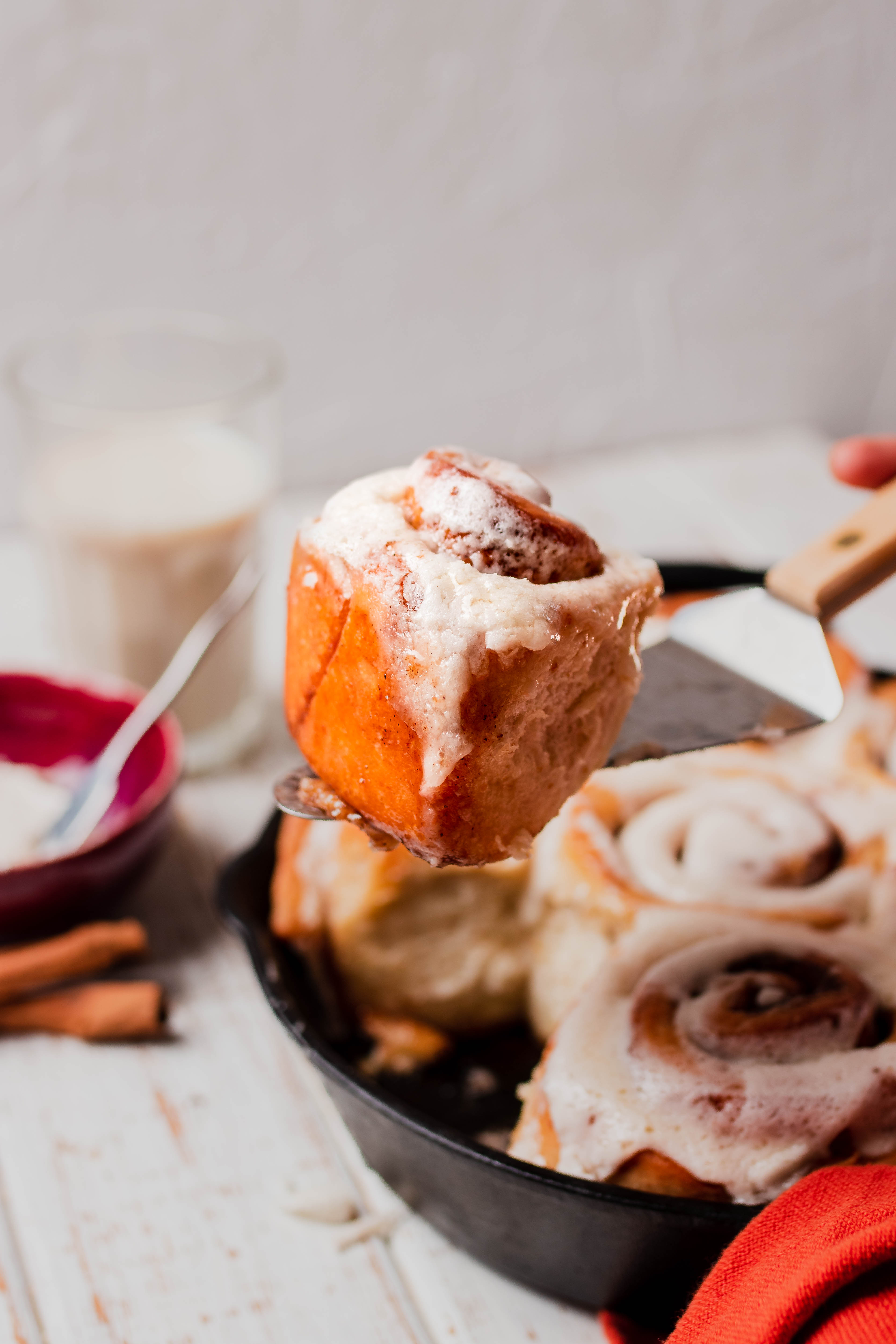 Why you should make Cinnamon Buns this Mother's Day:
Your mom deserves it. That is all.
These cinnamon buns are amazingly buttery, sweet, sticky, and paired with the perfect dough. Making them the perfect Mother's Day brunch. Warning, there is a fair bit of butter in this recipe, it is all there for a reason, and it is all delicious. Cinnamon Buns are not meant to be healthy, that's why we didn't even try. Also your mom deserves the real thing, not some gluten-free "healthy" version. Unless of course your mom is gluten-intolerant, then you should definitely make her a gluten-free version.
VEGAN CINNAMON BUNS
Mother's Day is around the corner and it is time to show your mom just how much she means to you. No better way to do that than with delicious vegan cinnamon buns for brunch.
Print
Ingredients
Dough
1

tbsp

quick rise yeast

1

cup

warm non-dairy milk

1/4

cup

white sugar

1/3

cup

butter

pinch

salt

2

flax eggs

,

(2 tbsp ground flax + 6 tbsp water)

4

cups

all-purpose flour
Cinnamon Sugar Spread
1/2

cup

melted butter

,

, divided

2

tbsp

cinnamon

1/3

+ 2 tbsp

brown sugar

,

, divided
Cream Cheese Frosting
4

tbsp

vegan butter

1.5

cups

icing sugar

1/4

cup

vegan cream cheese

1

tsp

vanilla extract
Instructions
On the stove warm your non-dairy milk until it is just warm to the touch. You want the milk temperature to rest in between 40-50C.

To your warmed milk add your yeast and white sugar to whisk until it is all incorporated. Leave that to rest for about 10 minutes. If after 10 minutes it does not start to foam, your yeast is either dead or expired and you should start over with new yeast.

Add 1/3 cup butter to a stand mixer along with your flax egg and beat until your butter has softened. Add your flour, salt, and yeast mixture to your stand mixer and using your dough hook, beat until your dough just comes together. It is okay if it is a little crumbly.

Turn out your dough onto a clean surface and kneed until it comes together into a smooth dough.

Add you dough to a greased mixing bowl and place clear wrap over top. Place in OFF oven to proof for at least 1 hour or until it has doubled in size. Do not turn on or preheat oven while your dough is rising.

Once your dough has risen, place it on a lightly flour surface. Lightly flour the top of the dough and rolling pin and roll into a long rectangle.

Pour 1/4 cup of melted butter on your dough and brush so that it is all covered. Sprinkle with 1/3 cup brown sugar and your cinnamon.

Starting from the long side, tightly roll your dough.

Using a very sharp knife (be careful!) cut your dough into about 1" slices. You should get about 12 good sized cinnamon buns out of it.

In a baking dish spread about 1/4 cup melted butter on the bottom and sides, as well as sprinkle about 2 tbsp of brown sugar. This will give you a delicious carmelized bottom.

Add your cinnamon buns to your baking dish and cover with clear wrap to rise again. This rise will take about 30 minutes. You can rise it in dark humid place or in your oven that is OFF.

Once the cinnamon buns have risen, preheat your oven to 350F. One it has reached temp, bake your cinnamon buns for about 27-30 minutes. You will know they are done once they are golden brown on top.

To make your cream cheese icing add your butter, cream cheese, and vanilla to a stand mixer and beat until your butter is nice and creamy. Then slowly add your icing sugar to your mixer, about 1/2 cup at a time. This will make the perfect creamy icing.

While your cinnamon buns are still warm from baking spread the icing over top.
How to make them: