Miso Soup is delicious, comforting and one of the easiest meals to pull together on a busy weeknight. It's a traditional Japanese soup often found on an all-you-can-eat sushi menu. Typically Miso Soup is made of a dashi broth combined with miso paste. Additional ingredients are added but change depending on who's making it. Silken tofu, wakame and green onions are common additions. It's the most comforting soup you'll enjoy and is absolutely perfect on a gloomy day. It's common in Japan, they often enjoy it every single day. Our version is not 100% authentic as it can contain fish, but it's 100% delicious.
A combination of green onions, bok choy, nori and tofu sitting in a simple miso broth. This recipe is made in just about 20 minutes from start to finish. We like to enjoy it as an appetizer, the burst of umami flavour it's the perfect start to your meal. Typically enjoyed when out at restaurants, however recently Kat has been enjoying it when feeling under the weather. The warmth sits so well in an upset stomach and warms you from the inside out.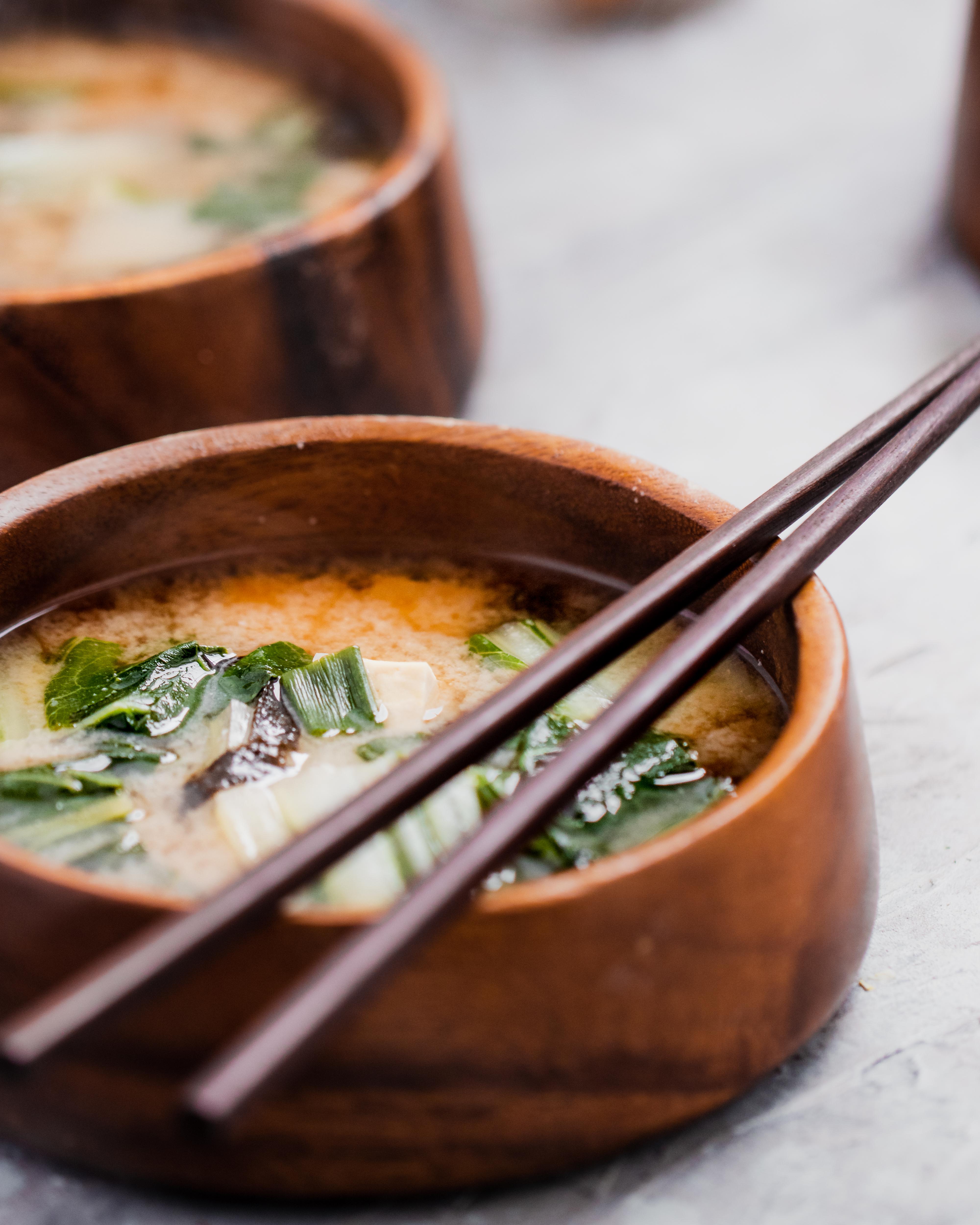 Unfamiliar with miso? Miso is a fermented soy bean paste and can be found in most grocery stores. If you can't find it in your local grocery store, you're guarenteed to at your local Asian grocery store. We know what you're thinking – 'why would I buy something to only use in one soup?' Well you're in luck. Miso is actually a very versatile ingredient. Try using it in your vegan cheese sauce, salad dressings, gravy, marinades and other soups. It's an amazing addition to any pantry, especially if you love Asian cuisines.
Looking for some delicious sushi and other accompaniments? Try out our Vegan Spicy Tuna Maki, Vegan Vegetable Tempura and Vegan Chick'n Teriyaki Maki.
Ingredients
6

cups

water

1

bunch

green onion

,

chopped

1

cup

bok choy

,

chopped

1/2

block

medium firm tofu

,

cubed

1/3

cup

miso paste

1

sheet

nori

,

shredded

1

tsp

soy sauce
Instructions
In a medium pot bring water to a boil. Add the shredded nori, soy sauce and miso paste, mix until combined. Allow to cook for about 5 minutes.

Add in bok choy, green onions and tofu. Allow to simmer for about 10-15 minutes.

Serve as is or with some fresh green onions on top.
How to make Easy Vegan Miso Soup