Pumpkin Pecan Scones
No need to wait for your local coffee shop to veganize their Fall treats. Now you can make your very own Pumpkin Pecan Scones at home in no time. 
Sweater weather is here and that means it's time to make pumpkin everything. From Pumpkin Cinnamon Rolls to Pumpkin Spice Waffles and everything in between, there is a pumpkin recipe for you. But we know what everyone is really looking for during Autumn – and no it's not PSLs – it's Vegan Pumpkin Pecan Scones! Flaky, butter-y scones these Pumpkin Pecan Scones are one of our favourite Autumn treats.
"This might be my favourite scone I've ever had in my life." – Devin
If that isn't a glowing review, we don't know what is. Listen to Devin, this may be the best scone ever. Packed full of pumpkin flavour, plus everyones' favourite pumpkin spice blend, and crunchy pecans. Not to mention they come together in no time. So forget going to a coffee shop, instead have a fun night in and make yourself a batch of scones good for the whole week.
Top Tips for Making Pumpkin Pecan Scones:
Keep your butter cold. When making desserts like scones you want a good flaky pastry in the end. In order to achieve that you have to keep the butter/shortening as cold as possible so that you get buttery layers throughout your dough. It's those butter/shortening layers that will produce air when exposed to high heat and create those signature layers.
Keep your ingredients/tools cold. If you tend to have trouble with dough where you need to keep the butter/shortening intact, we recommend cooling all your ingredients and tools before starting your recipe. This is also helpful if you're making these in a warm climate.
Do not overwork your dough. When kneading only do it as much as you need to, this shouldn't be a lot. An overworked scone dough will be tough and loose it's flaky layers.
Only use your hands if you need to. The warmth from your hands can cause the butter/shortening to become too soft. Use a spatula or spoon as much as you can before moving to your hands.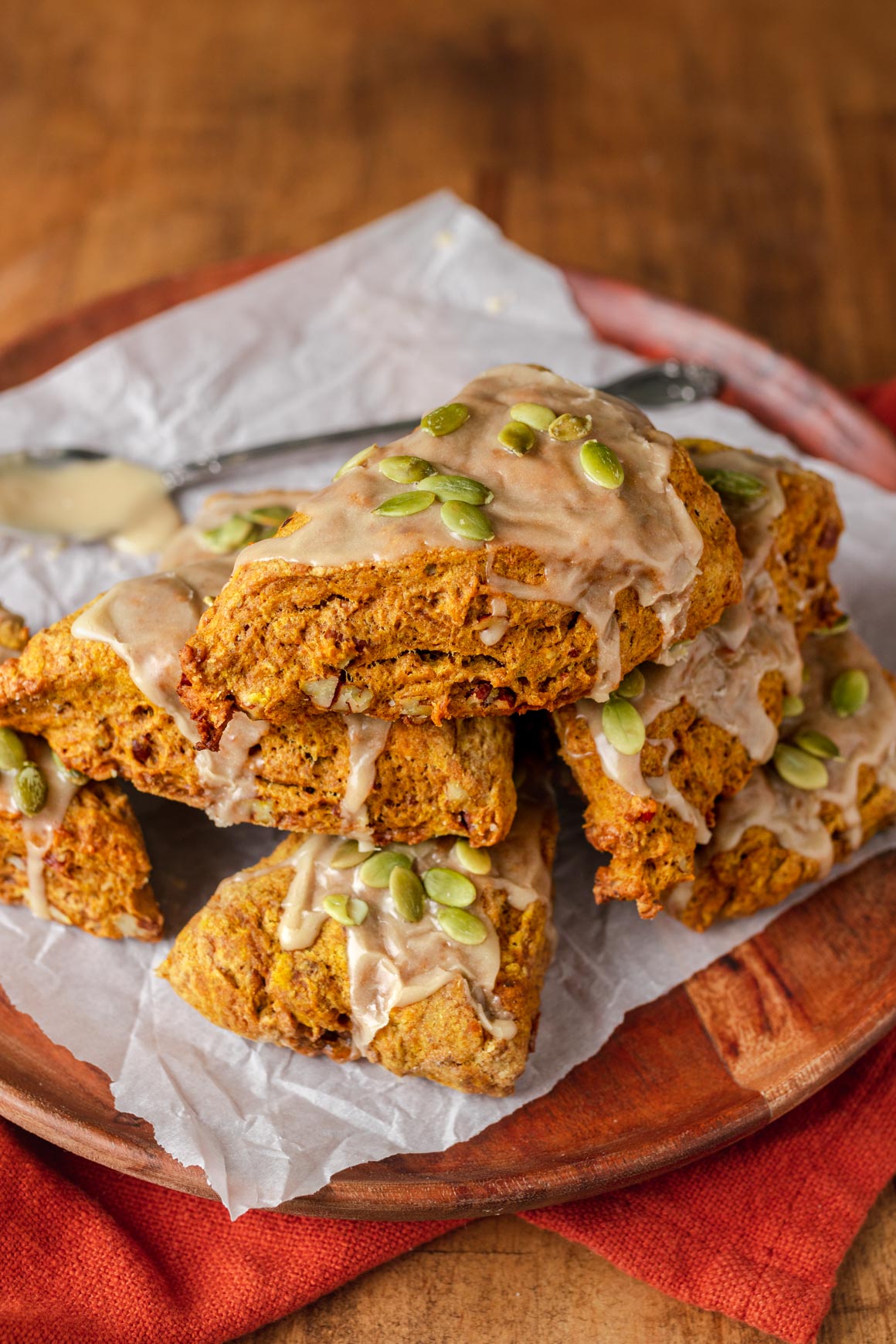 Pro tip: Make and shape the dough ahead of time. Freeze your pre-made dough until you are ready to bake them. Once you are, just bake from frozen, add a couple of minutes to the bake time and voila. You have deliciously flaky scones in about 20 minutes.
What substitutions can be made?
Certain ingredients are hard to come by right now, so don't worry if you don't have everything. See below for the a list of substitutions that should be okay for this recipe. Please keep in mind that this recipe was only tested the way its been posted so we cannot guarantee that the flavour and texture will be exactly the same.
Vegetable Shortening – You can use vegan butter here instead if you can't find shortening.
Pecans – Leave these out or use any other nut or seed of your choice.
Pumpkin Pie Filling – If you can't find a can of pumpkin pie filling, you can use pumpkin puree and add pumpkin spices like cinnamon, nutmeg, ginger and cloves.
Pumpkin Pecan Scones
No need to wait for your local coffee shop to veganize their Fall treats. Now you can make your very own Pumpkin Pecan Scones at home in no time. 
Ingredients
240

g

(2 cups) all-purpose flour

4

g

(1 tsp) baking powder

67

g

(⅓ cup) brown sugar

pinch

salt

113

g

(½ cup) vegetable shortening or vegan butter

cubed

36

g

(⅓ cup) pecans

roughly chopped

45

mL

(3 tbsp) non-dairy milk

1

flax egg

(1 tbsp ground flax seed + 3 tbsp water)

114

g

(½ cup) pumpkin pie filling*

15

mL

(1 tbsp) molasses

10

mL

(2 tsp) vanilla extract
Optional Icing
156

g

(1¼ cup) icing sugar

15

mL

(1 tbsp) vanilla

15

mL

(1 tbsp) maple syrup

15-30

mL

(1-2 tbsp) non-dairy milk

28

g

(2 tbsp) vegan butter
Instructions
Make your flax egg and set aside in the fridge to set while you prepare the rest of the ingredients.

In a large bowl mix together your flour, baking powder, sugar and salt (*if using pumpkin puree add 2 tsp of cinnamon, 1 tsp nutmeg, ½ tsp ginger and ½ tsp cloves).

Add cubed cold vegetable shortening (or butter) to the dry mix and using a fork or a pastry blender, cut the shortening into the dry mix. It should resemble crumbly sand after you are done. It's okay to have some larger chunks of shortening - this helps to create the flaky layers you really want in a scone.

Add pecan pieces to the dry/butter mix and toss until all the pecans are lightly coated in the flour.

In a separate bowl combine milk, pumpkin pie filling (or pumpkin puree), vanilla extract, molasses and flax egg. Using a spatula mix and fold wet ingredients into your dry ingredients until just combined.

On a floured surface, knead the dough just a couple times. Over kneading creates a dense scone so be careful. Using your hands flatten the dough into a 1 inch thick round disk. Cut into 8 even triangles and place on a lined baking sheet with a couple inches of space between each scone.

Bake in preheated oven for 18-20 minutes or until golden brown.

While the scones are baking you can make the optional glaze. Add vegan butter to a small bowl and mash it gently with a fork. Add maple syrup, vanilla, non-dairy milk and icing sugar - whisk until smooth.

Once the scones have baked, allow them to cool for 5-10 minutes. Then if using, drizzle with glaze.