All month long we'll be making delicious recreations of classic all-you-can-eat sushi dishes. Except all of ours our vegan! Can you even talk about having a sushi series without fish? We don't think so. Obviously though we needed to find a way to make a classic fish maki roll vegan – easier said than done. After a little research we set our sights on a Vegan Spicy Tuna Maki Roll.
Made using beefsteak tomatoes – these rolls are spicy, creamy and oh so delicious. Now full disclosure – we haven't really had a Spicy Tuna Roll before. For that reason we can't promise this is going to taste exactly like the non-vegan version. We can promise that it will be nothing but delicious.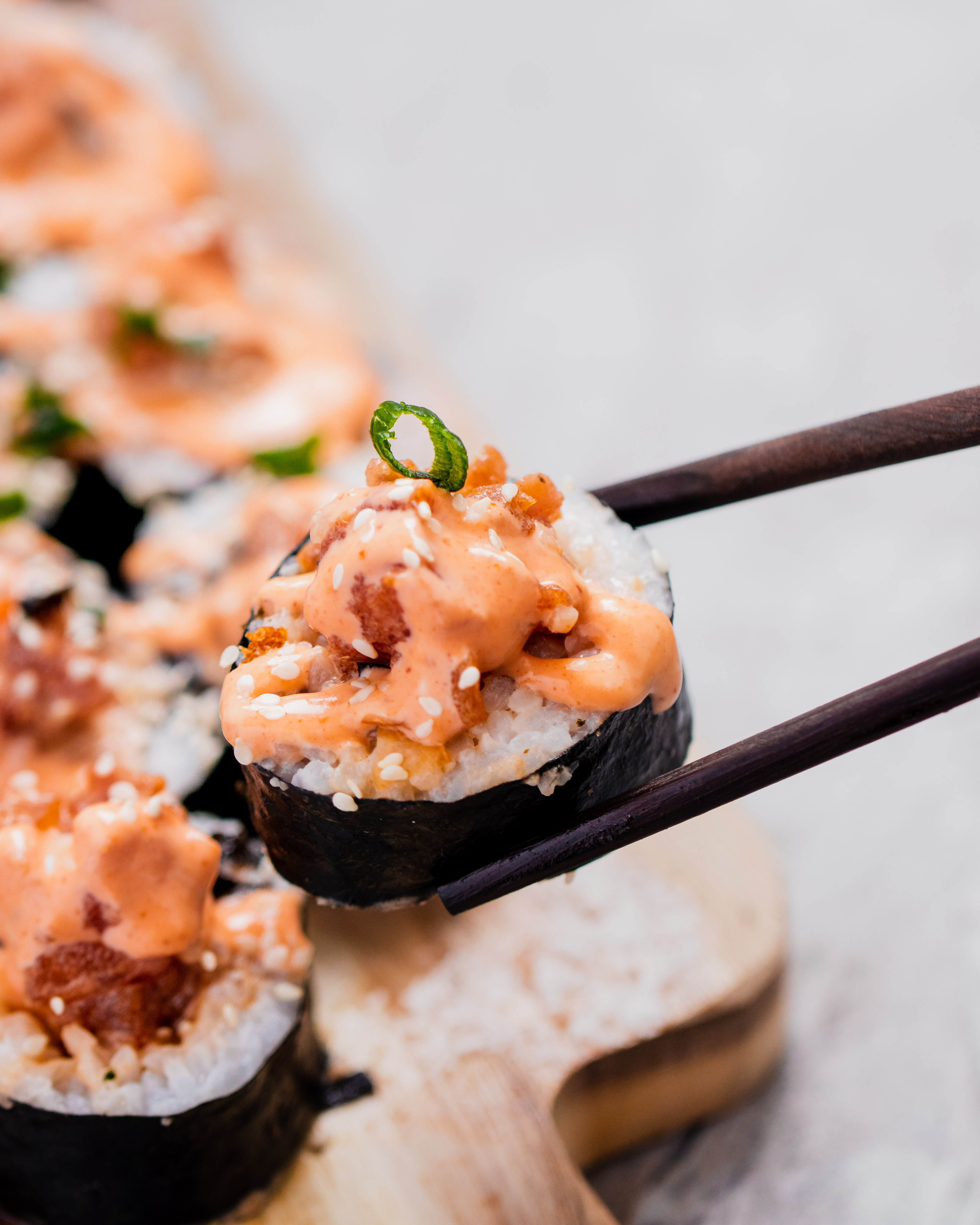 Our tuna base is made using boiled beefsteak tomatoes – in order to be able to peal the skin. Followed by a brief marinade in a soy based "fish" flavouring and finished with a coating of sriracha mayo (obviously). Of course then all you have to do is roll it up in some sticky rice and nori and devour.
Want to know how to roll sushi? Check out the video below to see how we did it!
Vegan Spicy "Tuna" Maki
Print
Ingredients
Spicy "Tuna"
3

beefsteak tomatoes

2

tbsp

vegan mayo

1

tbsp

sriracha
"Tuna" Marinade
3

tbsp

soy sauce

2

tbsp

rice vinegar

1

tsp

ginger paste

1/2

sheet nori

,

shredded

1/4

cup

water
Maki Roll
2

nori sheets

2/3

cup

cooked sushi rice
Instructions
In a small bowl combine the marinade ingredients and whisk until combined. Set aside.

Bring a pot of water to a rolling boil - enough water to completely cover the tomatoes.

With the tip of a sharp knife cut a small X into the top of the tomato.

Once water is boiled, place tomatoes in. Have a bowl of ice cold water handy. Boil until you see the skin start to rip. Once they start to rip quickly take them out of the boiling water with a slotted spoon and put them in the ice cold water.

Using your hands peel the skin off the tomatoes and set them aside. Repeat for all tomatoes. Cut tomatoes into wedges and remove the watery core & seeds. Dice into 1cm cubes.

Marinate in soy mixture for about 30 minutes.

Drain marinade (you can save this as it makes a delicious dipping sauce) and add mayo and siriacha. Mix until completely combined.

Place a thin layer of rice on your nori sheet (make sure you hands are wet to avoid sticky rice). Leave about 1/2" of space at top and bottom of nori. Scoop spicy "tuna" in a line on the middle of the rice. Roll tightly and use a little bit of water on your finger to seal.

Serve with more spicy mayo or the soy dipping sauce!
How to make Vegan Spicy "Tuna" Maki