Cranberries are those fruits people forget about. Almost everyone will have cranberry sauce on their table for the holidays but that's it. It's usually full of sugar to the point it doesn't tastes like cranberries anymore. Cranberries have a unique and interesting tart and sour flavour. Making them perfect for those without a sweet tooth. As two people who don't generally have a sweet tooth, cranberries make the perfect dessert. We think you should be embracing them for their unique flavour we're going to show you how with Cranberry Handpies.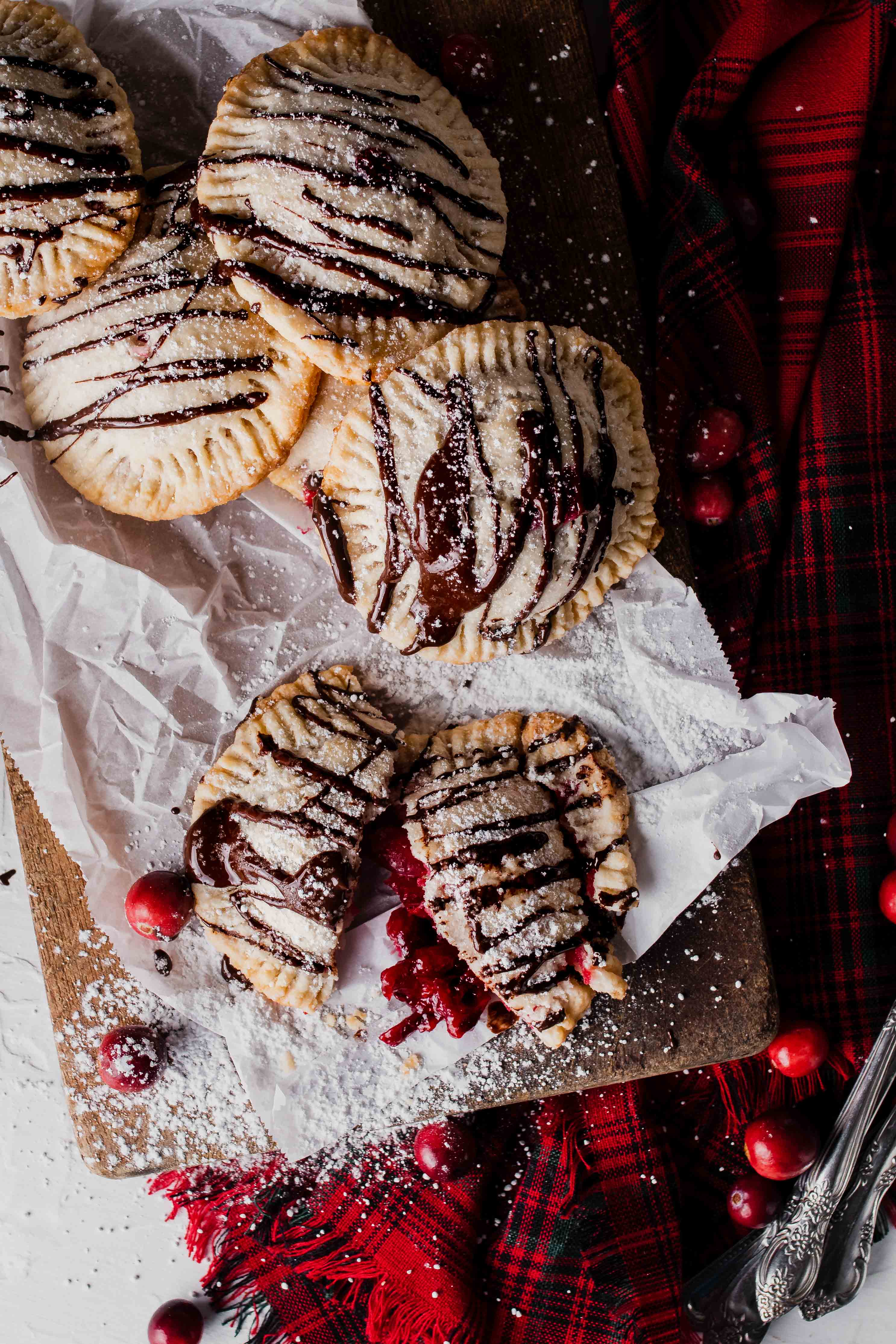 Cranberries have this big beautiful colour. There's nothing better in a colourless winter, than a bold cranberry. The vibrant colour has the ability to just lift you out of a drab funk. When cooked down they collapse into an even more beautiful deep red.
Our Cranberry Handpies are the perfect combination of sour, tart and sweet. With an amazing hint of citrus coming through from the orange. They're the perfect end to a delicious vegan holiday. Plus look at them, they're cute as heck. Talk about an Instagram-worthy dessert.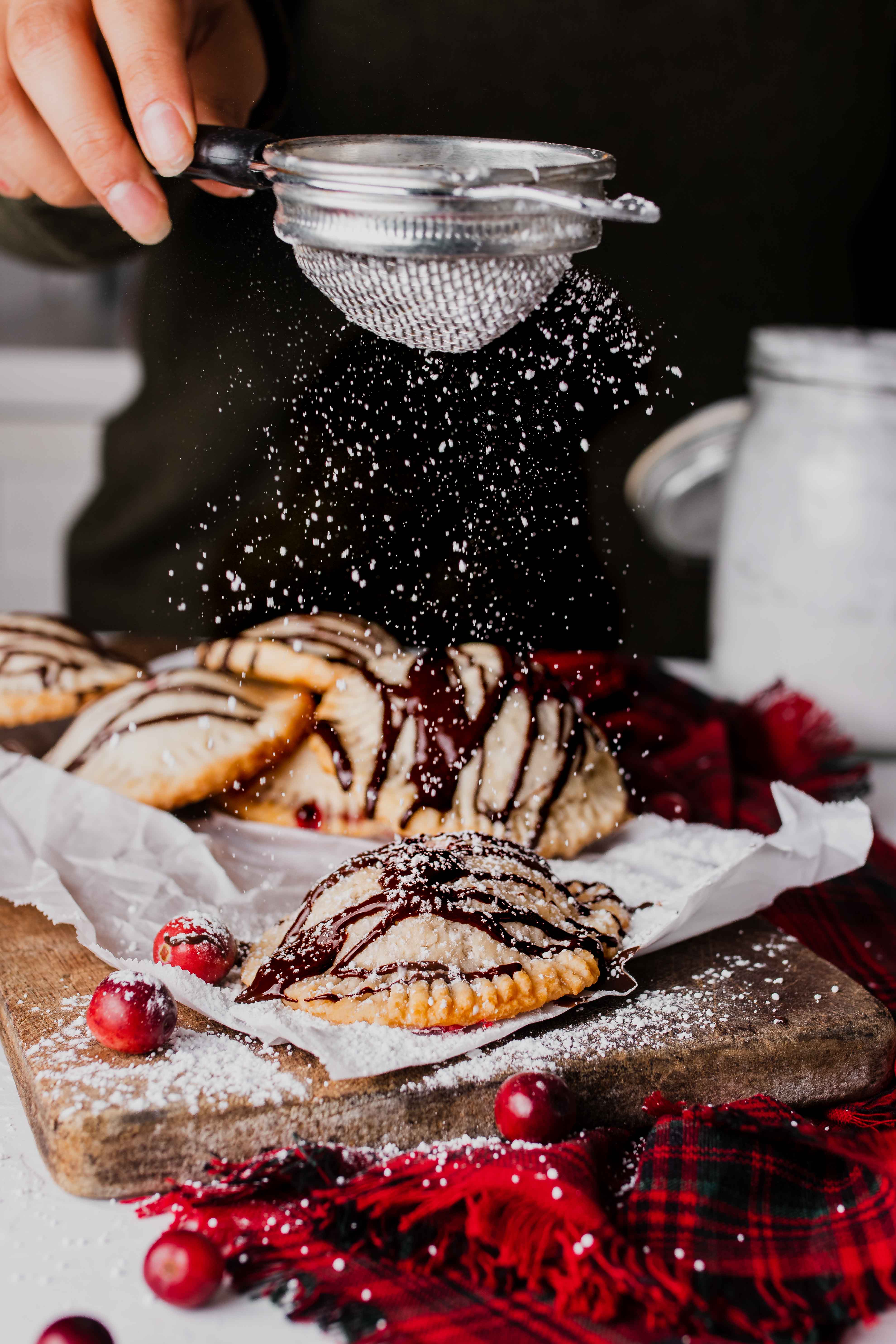 This amazing recipe is all a part of a bigger YouTuber collaboration filled with amazing holiday recipes. From Vegan Sausage Rolls to Hasselback Potatoes to Sweet Potato Lasagna. This collab has you covered for a delicious vegan holiday dinner. Check out everyone else's amazing recipes in the YouTube playlist here. Check out everyone in this amazing collab: The Viet Vegan, Sweet Simple Vegan, Caitlin Shoemaker, Cheap Lazy Vegan, Sarah's Vegan Kitchen, Lisa Kitahara and Vegan Travel Eats.
We also have had an amazing How To Vegan the Holidays Series that has been going on all of December, filled with amazing holiday recipes. You can check out that series playlist here.
Cranberry Handpies with Chocolate Drizzle
Print
Ingredients
Pie Dough
2 1/2

cups

all purpose flour

1

tsp

salt

1

cup

cold coconut oil

3-6

tbsp

ice water

1/4

cup

brown sugar
Filling
2

cups

cranberries

1

tbsp

orange zest

1

tbsp

orange juice

1

tsp

cornstarch

1/3

cup

brown sugar

1

tsp

vanilla estract
Toppings
melted dark chocolate

,

for topping (optional)
Instructions
In a food processor add your flour, salt and brown sugar and process until a grainy combined.

Add in your coconut oil in chunks, it is important the the coconut oil is cold because that is what gives your dough the flaky consistency. Process until you get a texture that is like wet sand.

Add in your ice cold water while the process is on, one tablespoon at a time. Start with three tables spoons and add the remaining slowly as you may not need as many as we did. We ended up needing all six tablespoons. You want to add wanted until your dough just comes together or when you can grab some dough and form a ball that holds together. Pro Tip: The water needs to be ice cold.

Turn out your dough onto a layer of cling wrap and using the wrap help form it into a ball. Then wrap your dough and store it in the fridge for 1-2 hours.

Remover your dough from the fridge and let it sit at room temperature for 10-15 minutes before rolling it out. Preheat your oven to 375 F.

To complete the cranberry filling add your cranberries, orange zest, fresh orange juice, cornstarch, brown sugar and vanilla to a medium saucepan over medium heat. Mix it all together consistently over the heat until your cranberries burst and the filling thickens. You want a good mix of burst cranberries to whole cranberries still in your mixture.

Set the filling aside to cool for about 5-10 minutes.

On a well floured surface roll out your dough to about a 1/8 inch thickness. If you are finding your dough is a little crumbly, wet your hands and knead for a minute then roll it out.

Using a crimped circle cookie cutter(you can buy here) use that to cut out as many shapes as you can from your dough. These are going to be the tops and bottoms to your handpies.

Place about 1 teaspoon of cranberry filling into the center of all your bottom pie cut outs. Trace cold water around the edge of the pastry to help the dough seal together and not leak.

Before placing your dough on top, roll out your cut outs just a bit extra so they can comfortable go over the mound of cranberry. Place them over and using your finger lightly press all the edges together. Then using a fork press down around the edges to ensure no leakage happens.

Using a sharp knife, create a slit in the top of your handpie to allow a place for steam to escape while baking, without this your pies would burst.

Bake for  20 in your preheated oven and then turn off the oven but don't them them out for another 2-3 minutes so that they can finish baking in the heat of the stove. Remove from the oven and let cook on baking sheet for about 2 minutes then transfer to a wire rack.

We topped our with a little melted chocolate and some icing sugar, which of course is all optional.
How to make Vegan Cranberry Handpies